The New Tour Edge Hot Launch HL3 Irons!
Hello, Rockheads! This week we are looking at the new Tour Edge Hot Launch HL3 Irons. And don't forget to check out our post on the Tour Edge Hot Launch HL3 drivers as well.
Tour Edge is one of the fastest growing companies in golf. For 2018, they launched their HL3 series of clubs, including the HL3 Irons, targeted at golfers that want tour performing clubs that they can actually afford. As they say, "Now you can afford to get custom fit, high-performance equipment. And tests prove that HL3 performs as well as clubs that cost twice as much." The HL3 series is a complete range of clubs from Tour Edge that is hand built in the U.S. and backed by a lifetime warranty.

Hot Launch 3 Irons By Tour Edge
Tour Edge introduces their new Hot Launch 3 Irons and talks about the irons design and technology. Also, Tour Edge explains how you should visit an authorized Tour Edge fitter to experience the best custom-fit clubs for your game.
NEW Hot Launch 3 Iron-Wood by Tour Edge
Watch as Tour Edge features the new Hot launch 3 Iron-Woods in this video and give a rundown of the unique iron-wood design and technology that goes into these clubs.
TOUR EDGE GOLF CHANNEL COMMERICAL
In this video, Tour Edge introduces the complete line of high-performance, affordable clubs. Plus, tests show that the HL3 line of clubs perform as well as clubs that cost twice as much.
Tour Edge Hot Launch HL3 irons features
Deep Undercut Cavity – The deep undercut cavity delivers superiour forgiveness and consistant speed.
Variable Face Thickness – The variable face thickness technology provides better speed across the entire face for off-center hits.
Toe Weight Technology – The toe weight technology creates a larger sweet spot plus maximizes stability on impact for solid contact on every shot.
Tour Edge Lifetime Warranty
48 Hour Custom Fit Nationwide Delivery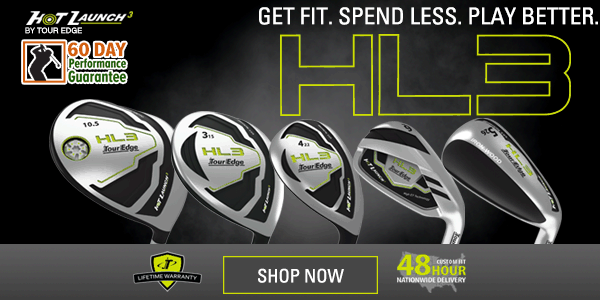 Products highlighted in this article: