TaylorMade STEALTH Giveaway
Enter our TaylorMade STEALTH Giveaway and score clubs #PlayedByTheBest! Be sure to ENTER DAILY and SHARE to earn +5 BONUS ENTRIES for each referral to increase your chances! It Ends June 30th at 11:59 pm! In conclusion, hurry up and sign up today! To Join the contest click HERE!
U.S. Mailing Address ONLY
About the Prizes
60X Carbon Twist Face
The all-new 60X Carbon Twist Face is 44% lighter than an equivalent titanium face, while also being 11% larger than SIM2 and SIM2 Max drivers and nearly 20% larger than the 2020 SIM driver. Sixty layers of carbon fiber have been strategically designed to optimize energy transfer to deliver fast ball speeds over a large area, resulting in optimal distance and forgiveness.
Thru-Slot Speed Pocket
Our most flexible Speed Pocket design is engineered to maximize ball speeds and produce additional forgiveness on low face strikes.
High MOI Design
The weight savings of the 60X Carbon Twist Face has allowed more weight to be positioned low and deep in the head, this will add 15% more MOI compared to Stealth Plus+.
Asymmetric Inertia Generator
The Inertia Generator remains the foundational source of refined aerodynamic properties. The result is a slippery-fast head shape that aids in swing speed generation on the downswing for golfers at every level.
Nanotexture Cover
The 60X Carbon Twist Face is encased by a polyurethane cover, featuring a revolutionary new nanotexture technology. The nanotexture cover is used to fine-tune launch and spin to optimize total distance regardless of playing conditions.
PRECISION WEIGHTED
In the world of golf equipment, engineers know the slightest weight shifts can equal big time results. The new carbon crown construction of the Stealth Rescue allows for the relocation of 7 grams, transferring it lower in the head to better position CG for easy launch, optimal forgiveness, and better stability through impact.
HIGH LAUNCH WITH OPTIMAL FORGIVENESS
An ultra-heavy V Steel sole positions weight low in the club to encourage high launch and enhanced turf interaction, making this club a weapon from any lie. Get the yardage, attack the pin.
CARBON CROWN
Also, the new carbon crown construction relocates 7 grams of mass, creating a hybrid that's easy to launch with incredible stability. Its design features 15% higher MOI as compared to SIM Max, giving golfers the freedom to attack pins from anywhere.
V STEEL SOLE DESIGN
As well as, Refined weight distribution for enhanced forgiveness while maintaining optimal launch properties. It stays true to its heritage by improving turf interaction and versatility.
C300 STEEL TWIST FACE
In addition to, High-strength C300 steel allows for a strong, fast face engineered for explosive ball speeds. The proven Twist Face® design helps golfers overcome inherent mis-hit tendencies for straighter shots.
THRU-SLOT SPEED POCKET
Lastly, Our most flexible Speed Pocket™ design is engineered to maximize ball speeds and produce additional forgiveness on low-face strikes.
TP5

pix

Details & Features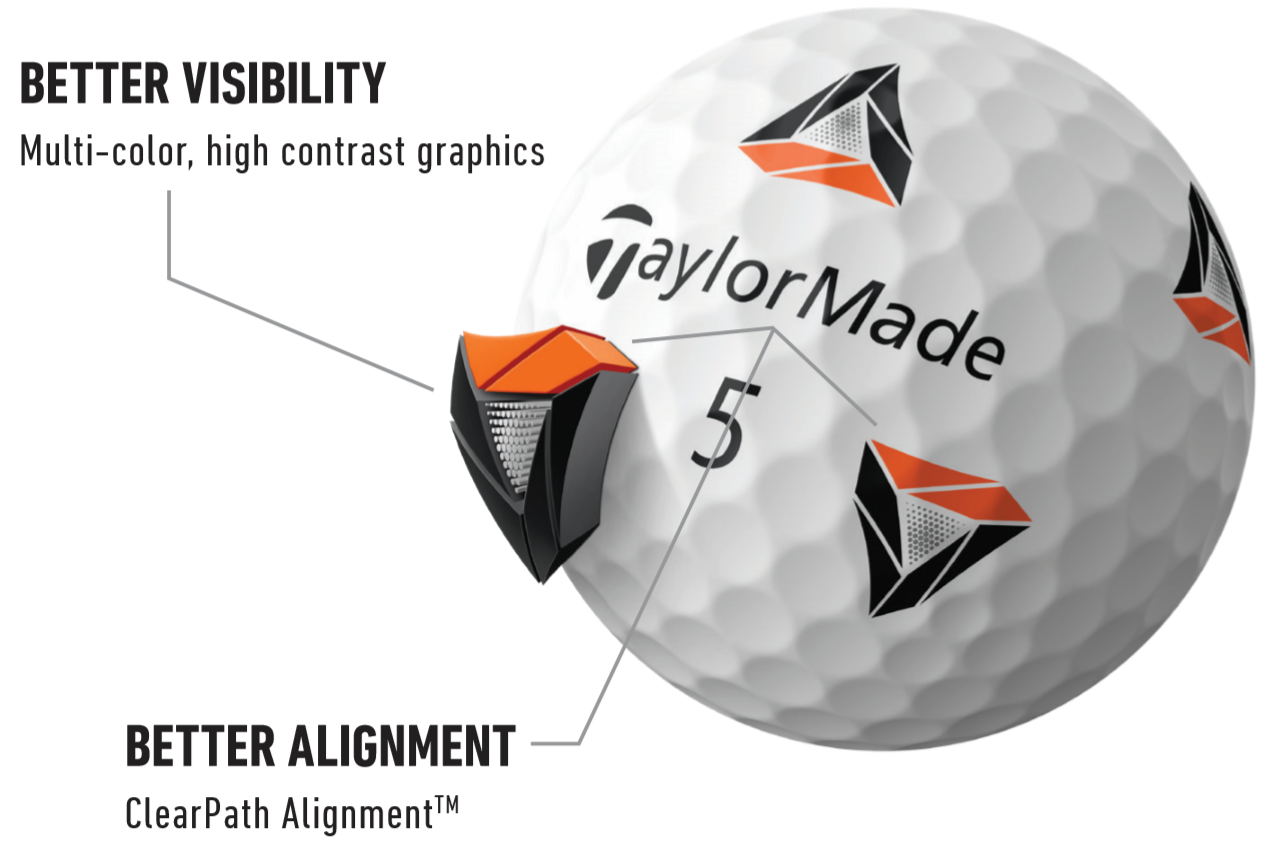 ClearPath Alignment™ System – Strategically placed graphics frame a single TaylorMade logo and TP5/TP5x stamp that create a clear path from the ball to the hole, giving instant visual feedback.
Multi-Color Pattern – A newly configured multi-color pattern makes Pix™ easier to see in different light conditions while enhancing overall visibility and alignment.
Co-Developed by Rickie Fowler – A year-long collaboration with Rickie Fowler resulted in the creation of pix™. His vital feedback led to the development of ClearPath™ Alignment and the unique color pattern.
Tri-Fast Core – XL low compression core increases launch angle and reduces drag.
Speed Layer System with HFM – Four increasingly stiff layers deliver higher ball speed and greater rebound at impact. HFM is a higher flex material that improves energy transfer and rebounds quickly to generate more ball speed resulting in better performance.
Dual-Spin Cover – A softer cast urethane cover (the fifth layer in TP5/TP5x) increases groove interaction for more green-side spin. The new Soft-Tough Cover features an improved urethane compound and paint formulation for added durability. It comes in a 322 seamless dimple pattern.
Before You Go!