Alien Golf Roswell Wedge – PRODUCT REVIEW
Alien Golf Roswell Wedge Product Review Video
This week, we evaluated the fantastic-looking Alien Golf Roswell Wedge by taking it out to the course for a round of golf. Back in the day, this was a super popular golf wedge, and now Alien is back with an upgraded version of their renowned Wedge. So, we put it through its paces by testing it in a variety of common settings and scenarios around the green. For instance, using the Alien Roswell Wedge to knock a golf ball out of a sand trap resulted in excellent performance from the club. This wedge was able to get the ball out of the soft sand and onto the green without any difficulty.
Additional Information About the Alien Roswell Golf Wedge: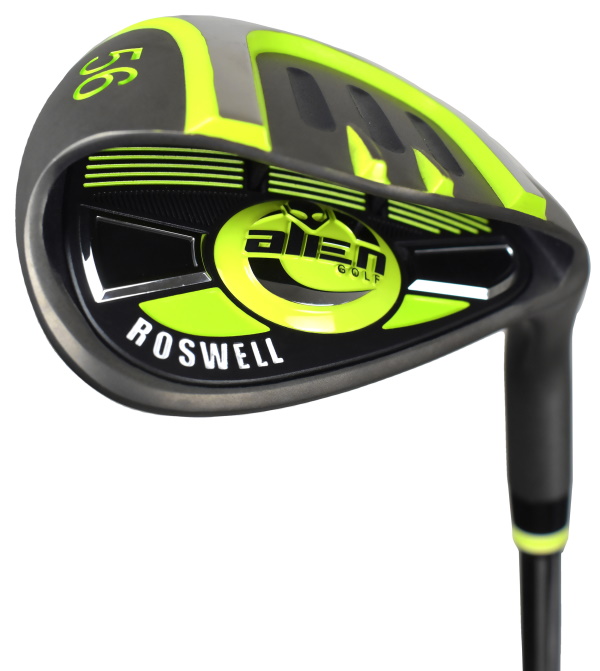 The Alien Roswell® Wedge is the product of many years of research and development. When playing a round of golf, it is important to be aware that 65 percent of shots are played within 120 yards of the hole. This requires the usage of the appropriate Wedge. Because the Alien Wedge features a deep hollow and a broad Gravity Rail sole design, it is able to raise the golf ball quickly and then allow it to fall gently while still maintaining an exceptional amount of spin and control. The full-facial CNC machined grooves and laser-etched face work in conjunction with one another to deliver the powerful spin that is necessary for all sorts of shots.
Our Alien Wedge has a Gravity Rail System Sole that was scientifically created. This sole will assist you in overcoming the most difficult lies that the course has to offer, including the terrifying bunker shot, the tight lies around the green, and the deep rough. You need just square yourself up to your objective, and the Alien Roswell® wedge will take care of the rest. In addition, the Alien Wedge features a Space GelTM vibration dampener that is protected by a patent and is bolstered by twin stabilizing bars. These features work together to deliver an exceptional feel and forgiveness. The Alien Roswell® wedge is out of this world thanks to its outlandish design elements, looks, and fantastic performance.

Before You Go!
Have you tried out the Alien Roswell Wedge? Well, now may be a perfect time to improve your short game! This wedge comes with a 90-day performance guarantee! We would love to hear from you. So let us know what you think in the comments below!
Take A Second Look Around!
We have almost 12 years of great golfing content here! We cover everything golf and golf-related! Check out some of our latest golf articles! Are you a Cleveland Golf fan? Then head on over and take a look at 8 Favorite Cleveland Golf Picks: Golf Woods, Irons, Wedges, and Putters! Or perhaps you are a FootJoy fan? Then read 12 Top FootJoy Golf Products: Golf Shoes, Apparel, Gloves! Or maybe you are in the market for a great golf rangefinder? We have 11 Golf Rangefinders in 2022! Bushnell, Snake Eyes, Nikon, And More!