March Cobra/PUMA Giveaway!
Rock Bottom Golf's March Cobra/PUMA Giveaway! The KING RADSPEED family of metals utilizes RADIAL WEIGHTING Technology to deliver the perfect balance of ultra low spin, radial ball speed and extreme forgiveness. Your choice of two RAD colors provides the ultimate personalized looks and performance. Sign Up TODAY for your chance to win a Cobra club or PUMA Golf Shoe from Rock Bottom Golf!
Enter once per day to win via Facebook! Don't delay – the contest ends at 11:59 pm EST on March 31st!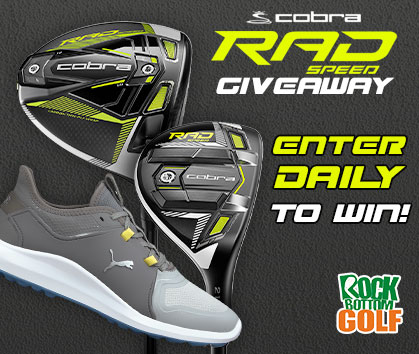 The sweepstake runs from FMarch 1st – March 31st at 11:59 pm.
You must be 18+ years old
United States Mailing Address ONLY
All entries will be used and the drawing will be random.
All you have to do is enter your email address. No purchase necessary! If you are chosen as a winner, the email address you submitted will be used to contact you to obtain an address to send the prize.
The sweepstake only lasts until 11:59 pm on October 31st, so enter quickly for your chance to win! Enter to win via Facebook today!
FEATURES & TECHNOLOGY
RADIAL WEIGHTING
The strategic placement of weight relative to the CG to optimize speed, forgiveness, and flight direction.
FORWARD-BIASED RADIAL WEIGHTING
The RADSPEED™ driver frame features 28g positioned as forward as possible (16g of fixed weight and a 12g adjustable weight) to deliver ultra low spin and our fastest ball speeds. An additional 10 grams of weight positioned in the back (8g of fixed weight and a 2g adjustable weight) creates the perfect balance of front and back weighting for RAD speed & forgiveness.
THIN-PLY CARBON WRAP CROWN
The Carbon Wrap Crown system features a new carbon fiber material that is 30% thinner which creates another 6 grams of discretionary weight that can be repositioned to optimize performance.
T-BAR CHASSIS
A refined T-Bar Chassis design is 7 grams lighter, giving us even more discretionary weight to position more mass forward within the frame to decrease spin and increase ball speed.

CNC MILLED INFINITY FACE
An infinity edge face design expands the milled area by 95%, increasing the zone of maximum ball speed.
FEATURES & TECHNOLOGY
RADIAL WEIGHTING
The strategic placement of weight relative to the CG to optimize speed, forgiveness, and flight direction from the fairway or off the tee.
FRONT-BIASED RAD WEIGHTING
Two 6g internal front RAD weights (12g total) and a 7g back weight combine to deliver ultra low spin with high launch and forgiveness.
HOLLOW SPLIT RAILS
Hollow rails in the front create 70% more flex from heel to toe for higher launch and more speed.
FORGED FACE
A forged insert is thinner and more flexible to create faster ball speeds and higher launch for greater stopping power into greens.

BAFFLER RAILS
Two Baffler ® sole rails prevent digging and allow the club to glide effortlessly out of tight lies, thick rough, and even bunkers.
Ready to ignite your game? This latest edition of the IGNITE spikeless franchise has a revolutionary PWRCAGE system for unparalleled support around the midfoot. Add to that integrated webbing straps for a secure fit and an organically altered traction pattern on the outsole and you've got a shoe guaranteed to light a spark.
Features:
PWRSTRAP Fit System: Advanced nylon webbing straps integrated with the lacing system wrap the foot to provide a secure personalized fit
Flat-Knit Mesh upper combined with PWRFrame TPU overlays
PWRCAGE: A super-strong, lightweight TPU saddle integrated with midfoot support webbing straps, provides excellent support and stability throughout your swing
Performance Mesh + TPU: Non-stretch waterproof and breathable mesh, premium TPU PWRCAGE and PWRFrame combine for the ultimate spikeless performance shoe.
IGNITE Foam midsole, wrapped in SoleShield for added durability, provides unparalleled comfort and energy
DISC Closure System provides a quick, easy, and secure fit with a simple twist
One Year waterproof warranty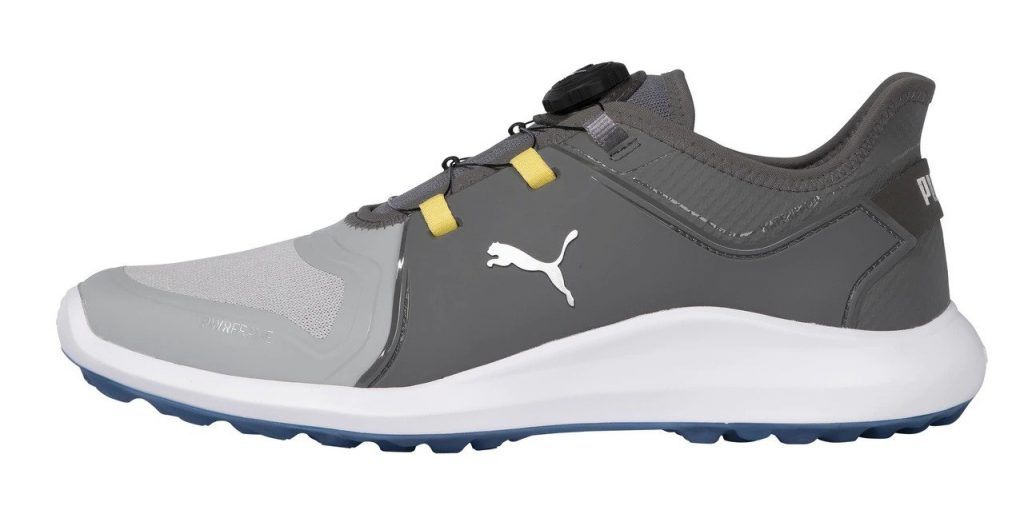 Before You Go!
Check out the many other great Rock Bottom articles. The Callaway Golf Epic Speed Drivers ARE HERE and here's our blog post about them! Here's our Spotlight on the Wilson CB Irons! Introducing the ALL-NEW 2021 Titleist PRO v1 and PRO v1x golf balls! We have a spotlight on the new Titleist TSI Drivers! Take a look at our article on all the review info about 2K's BRAND NEW PGA Tour 2k21 video game! There are so many many many more great golf articles to read! And so if you enjoy any of the content here make sure you share it with your friends! Don't forget to ENTER our March Cobra/PUMA Golf Giveaway!