On The Range-Rickie Fowler Major Winner?

On The Range-Rickie Fowler Major Winner?
Will he? Won't he? What is the deal!?!?! Rickie Fowler is a beloved player on tour so today we address a big issue, On The Range-Rickie Fowler Major Winner?
Rickie Fowler
Rickie Fowler is a player that appears to be loved by all fans of the PGA Tour, rarely do you hear anybody say a bad thing about him. His personality and fashion choices have even endeared him to a younger crowd, which in turn brings a youth movement to golf. To date, Fowler has won 5 events on the PGA Tour –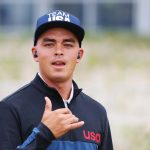 Wells Fargo Championship – May 6, 2012
The Players Championship – May 10, 2015
Deutsche Bank Championship – September 7, 2015
The Honda Classic – February 26, 2017
Waste Management Phoenix Open – February 3, 2019
If you look closely you'll notice that none of the 5 wins are Golf Majors. That seems to be the looming shadow over Rickie's career, but let's take a closer look at the numbers. Rickie Fowler has 5 wins on the PGA Tour, that ranks him 206th on the all-time PGA win list. Fowlers 5 wins put him in the same company as –
Ben Crane
John Daly
Bryson DeChambeau
Luke Donald
Jason Dufner
Nick Watney
Webb Simpson
And More
Why The Obsession?
So, Rickie Fowler is in the same company as Nick Watney but nobody makes memes or asks the question when, if ever, will Nick Watney win a Major? Why is that? I think it is simple, the other players listed have not done as much for the game as he has. When Rickie came on tour there weren't a lot of players wearing "loud outfits", minus Ian Poulter, but now orange pants can be seen on every municipal course around the country. Puma, Cobra and Farmers Insurance are all household names because of his partnership. Consider this, Rickie Fowler and Justin Rose are on the same career arch? It sounds crazy because Justin Rose has been rated #1 in the world, 10 PGA Tour wins, including 1 Major win. Rose did all of those things at or after the age of 30, Rickie just turned 30.
Is 2019 Rickie Fowler's Year?
Will 2019 be the year or will we continue to have this debate? *Stats accurate as of 4/24/2019*
Driving Distance – 303.3 yards (29th)
Driving Accuracy Percentage – 61.79% (94th)
Greens in Regulations – 69.17% (39th)
Scrambling – 59.91 (122nd)
Putts Per Round – 28.45 (39th)
Scoring Average – 69.871 (8th)
So, will Rickie Fowler win a Major in 2019? Personal opinion – Yes Rickie will win a Major but we want to hear from YOU -What do YOU think?