Tee It Up With Rock Bottom Golf – Winter Edition
Tee It Up With
Rock Bottom
Golf
Today we go all in on Tee It Up With Rock Bottom Golf – Winter Edition. We will look at some unwritten rules of golf clothing and we want to hear from YOU, do they apply? Let's also look at golfers who play in the extreme weather conditions that winter brings, do YOU play no matter what? 
We Ask – YOU Answer
Wearing Jeans
Is it ever okay to wear jeans on a golf course? Some say yes, others say sometimes, and then others say never. According to Golf Digest, it is a very, very rare chance that jeans are ever okay on the course. What do YOU think?
Golfing After A Snowstorm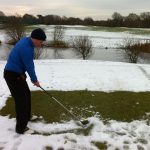 For some of the fortunate golfers this issue never comes up, but for others, they are forced to decide, to golf or not to golf. The areas that face a snowstorm mid-week but have a weekend forecast calling for clear skies and chilly temperatures, do YOU take your snow shovel and play on?
Golfing In Bad Weather
The next 2 videos are either showing very dedicated golfers or _______?
What are YOU doing in these conditions, hunkering down inside or putting on your favorite beanie and braving Mother Nature?
Over the past month we have featured our Tee It Up With Rock Bottom Golf blog, we created this as a way to hear from YOU. We love hearing YOUR thoughts, opinions and if YOU want us to feature a topic, golf course, golf hole or anything golf then let us know!
As always THANK YOU for tuning into Tee It Up With Rock Bottom Golf – Winter Edition
P.S be careful this winter…don't hit it thin!