6 More Golf-Inspired Man Caves You Need to See
Hello Rockheads! This week we're looking at some more golf-inspired man caves as a follow up on our first golf man cave article. If you are looking for some man cave ideas that are inspired by our favorite sport, take a look at the great golf-inspired man caves below. And let us know if you have a golf-inspired man cave! We would LOVE to see it, and we may even share the best ones here!
Nothin' But Green
Our first golf-inspired man cave has a huge putting green for practicing your putting game. Trying to reduce you 3-putt game? This one is for you!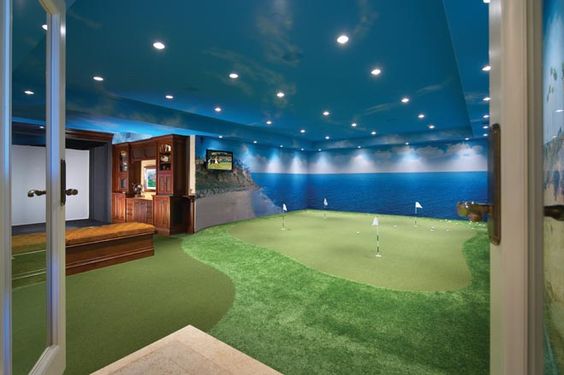 Classic Golf-Inspired Man Cave
This golf-inspired man cave has a classic design with a ton of golf gear and memorabilia in every corner. Just sit back and relax with a few beverages of your choice in front of the giant golf simulator. Who could ask for more?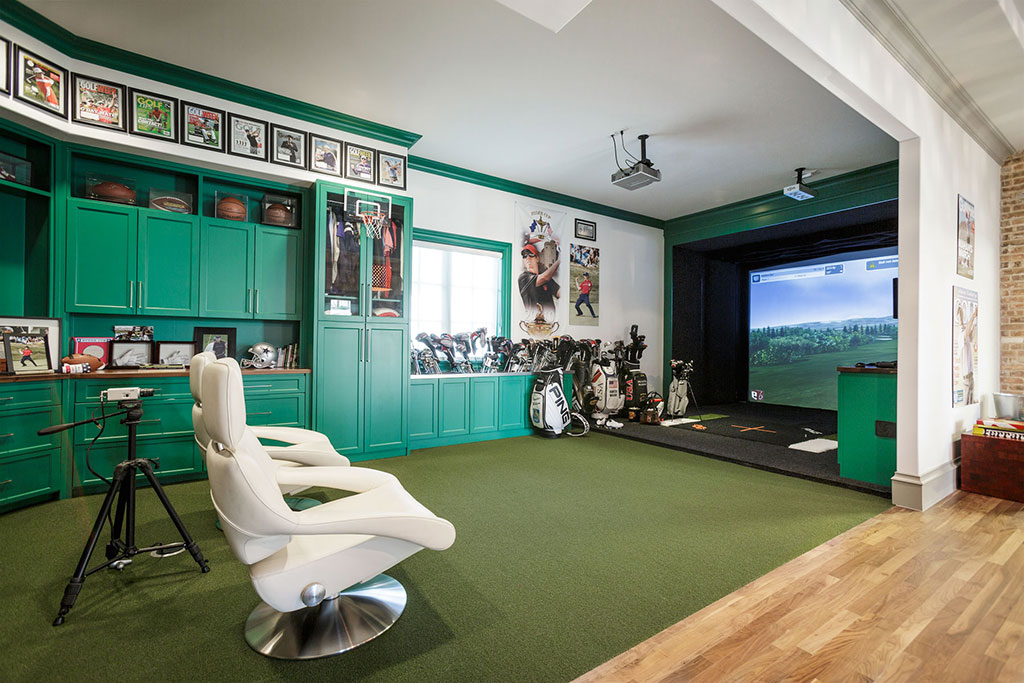 Almost a Real Cave
The next to images are of a great man cave with flat stone walls and arches. These flat stone features make this golf-inspired man cave look almost like a real cave. But unlike a real cave, this man cave comes with all the golf-inspired features anyone could ask for, including a putting green and a golf simulator. It looks like there is room for more than a few of you best golfin' buddies to relax and play a little golf on the putting green or simulator. And there is even a pool table for a bit of variety.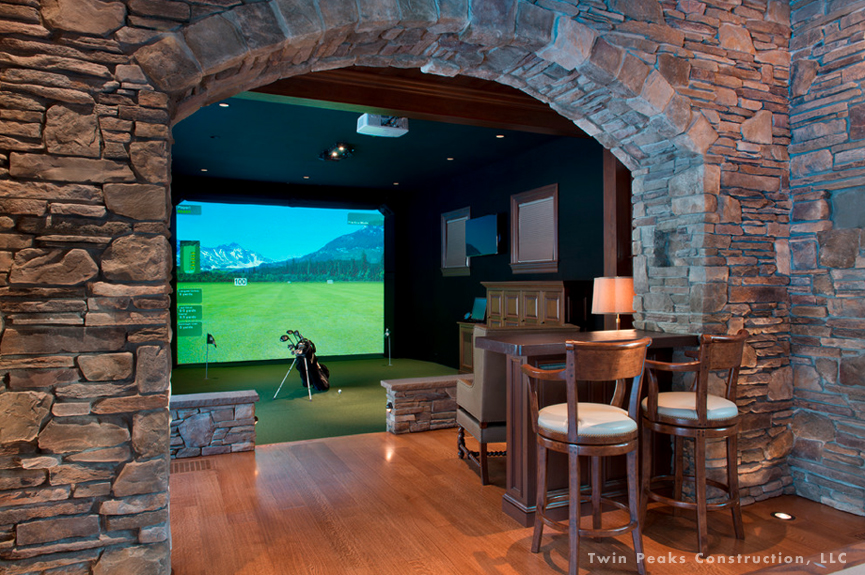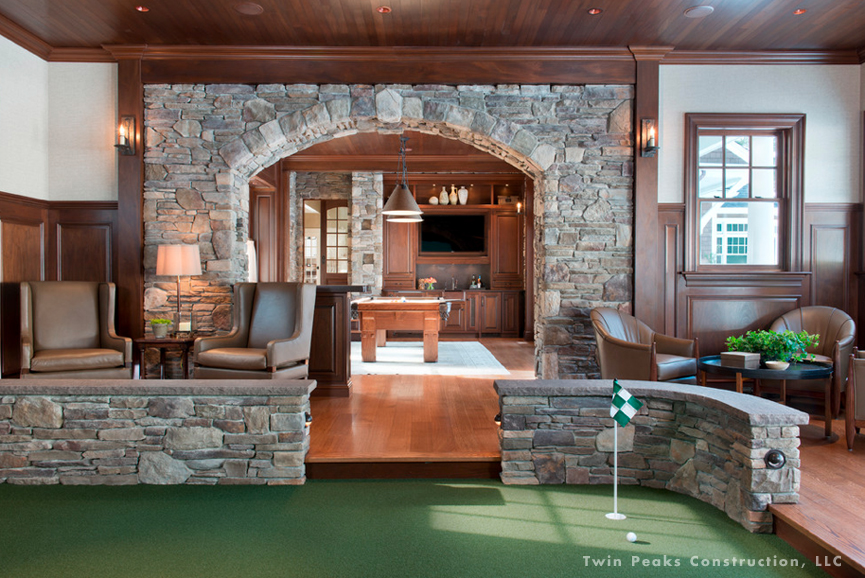 Golf Simulator Focus
One more man cave design with a focus on the golf simulator. This classic but straightforward golf-inspired man cave design will keep anyone in the mood for just a little more golf. And there is definitely a pattern here. Many of the golf-inspired man caves that I came across have a simulator installed. And why not? Sometimes when the weather isn't cooperating, or it just isn't possible to make it to the course, you need a second option. Or maybe even a third… like your buddy's golf simulator! Having options is good!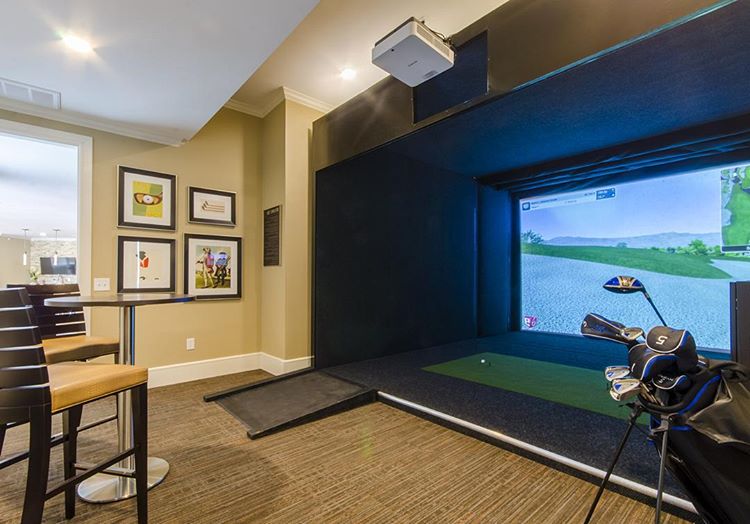 Almost On The Course
There is another sizeable putting green in this man cave. But the walls in this one include a golf theme that makes it look like you are really on a course. When there is weather outside, it seems like it will always be sunny in this golf-inspired man cave.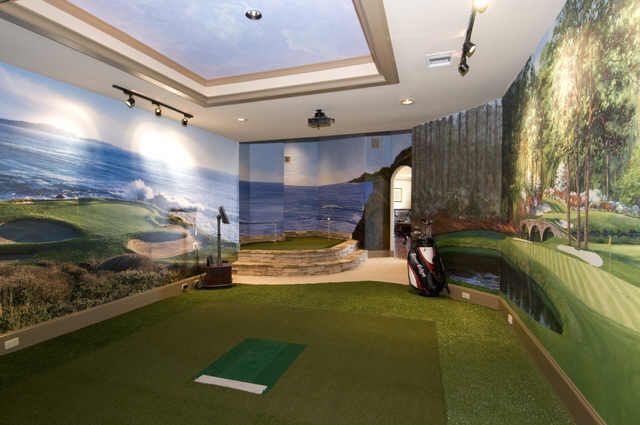 Man Cave Tour Featuring Indoor Golf Zone
And our last entry in the golf-inspired man cave category is a very detailed look at this impressive man cave from Giantsopoulos Golf. Every corner is filled with golf memorabilia and cool golf gear, including a Scotty Cameron putter collection. There is a putting green and indoor practice golf net for working on your game! Take a look at this 10+ minute video and get inspired ideas for your own golfin' man cave.

Don't forget to check out our last golf-inspired man cave article! We have a few more articles that may interest you as well, like 8 Coolest Golf Themed Home Furnishings and 5 Golf-Inspired Backyards You'll Drool Over.