Enter to WIN a FREE SkyCaddie Linx GT Game Tracker Edition!
Sorry, this giveaway has expired! Click here for details about our current contest!

Callin' all Rock Heads! This is your chance to put a top-of-the-line Game Tracker in YOUR cave for absolutely FREE! I'm giving away a SkyCaddie Linx GT Game Tracker Edition FREE! Here's the chance to become the envy of all your golfin' buddies! So don't delay – go enter my awesome Giveaway Contest for a FREE SkyCaddie Linx GT Game Tracker Edition!
Enter to win via Facebook today! Don't delay – the contest ends at 11:59 pm EST on November 30th!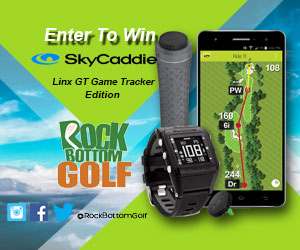 The sweepstakes runs from November 16th – November 30th at 11:59pm, so you can't procrastinate in entering to win this fabulous prize.
You must be 18+ years old to enter and win. As much as we appreciate you young pups taking an interest in golf, get your parents to enter if you're not quite reaching that age requirement.
All entries will be used and the drawing will be random.
All you have to do is enter your email address. No purchase necessary! If you are chosen as a winner, the email address you submitted will be used to contact you to obtain an address to send the prize.
Only people residin' in countries that we ship to can apply. International winners will get the value of the prize in store credit.
Not on Facebook? That's ok! Go here to enter!
The sweepstakes only lasts 'til 11:59pm on November 30th, so enter quick for yer chance to win! Enter to win via Facebook today!
Now that that's out of the way, let's take a look at our fabulous prize!
SkyCaddie Linx GT Game Tracker Edition!

Features:
Access to course map and updates
Preloaded with up to 35,000 Courses worldwide
Accurate distances to fairway and green targets that automatically update as you move and other critical targets that come into play
IntelliGreen technology displays the true shape of the green from your angle of approach. Get critical green distances- front, back and any distance in between
AutoSwing Detection knows when and where you swing so you never miss a shot
Intelligent Automation- Auto-Course Recognition, Auto-Hole Advance, and Auto-Distance Update- offer a virtually hands-free experience
Digital scoring and Bluetooth Smart technology lets you upload scores to the SkyGolf 360 Cloud for post-round analysis
Measure shot distances
Pace-of-play timer
Multi-sport odometer
Set a fitness goal and the Linx GT will track your number
Rechargeable battery: Up to 8 months (time mode); Up to 10-12 hours (GPS mode)
SkyGolf GameTracker Technology:
Attach SmartTags to each club in your bag
Tap a club to the SkyCaddie Linx GT watch
See the club, location and distance of each shot overlaid on screen!
In the Box:
SkyCaddie Linx GT GPS watch
15 SmartTags with storage pouch
SkyCaddie Mobile Premium app
Intelligent Divot Tool with built-in SmartTag
12-Month Prepaid card
Charging cable and user documentation
Go to Rock Bottom Golf's website for more information on the FREE SkyCaddie Linx GT Game Tracker Edition!
So don't delay Rock Heads, go Put Your Name In The Hat for a chance to win FREE SkyCaddie Linx GT Game Tracker Edition!
Not on Facebook? That's ok! Go Here To Enter To Win!