Don't Miss Your Chance To Win A FREE Hot-Z Golf AfterShock Speaker Cart Bag!

Callin' all Rock Heads! I'm giving away one FREE Hot -Z Golf AfterShock Speaker Cart Bag! Blast your favorite tunes through all 18 holes! I'm giving you the chance to win one of your own and become the envy of all your golfin' buddies! So don't delay – go enter my awesome Giveaway Contest for a FREE Hot Z Golf AfterShock Speaker Cart Bag!
Enter to win via Facebook today! Don't delay – the contest ends at 11:59 pm EST on April 30th!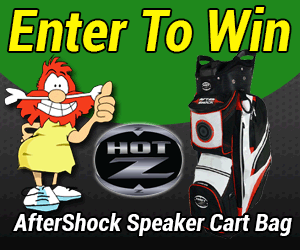 The sweepstakes runs from April 16th to April 30th at 11:59pm, so you can't procrastinate in entering to win these fabulous prizes.
You must be 18+ years old to enter and win. As much as we appreciate you young pups taking an interest in golf, get your parents to enter if you're not quite reaching that age requirement.
All entries will be used and drawing will be random.
All you have to do is enter your email address. No purchase necessary! If you are chosen as a winner, the email address you submitted will be used to contact you to obtain an address to send the prize.
Only people residin' in countries that we ship to can apply. International winners will get the value of the prize in caveman cash.
Not on Facebook? That's ok! Go here to enter!
The sweepstakes only lasts 'til 11:59pm April 30th, so enter quick for yer chance to win! Enter to win via Facebook today!
Now that that's are out of the way, let's take a look at our fabulous prize!
FREE Hot-Z Golf AfterShock Speaker Cart Bag!

What could a brand that started after the Civil War and was responsible for inventing most of the modern features found in today's golf bags do to create excitement? How about a golf bag that has a, built-in wireless speaker!
Unlike other units on the market that only operate as a low quality speaker, this powerful sounding unit also serves as a power bank (phone charger). Features music playing time of 15 hours, an FM Radio, hands-free phone talking time of 40 hours, a USB port, a large wireless range, battery capacity of 4000MA and much more.
Whether you're on the course, the driving range, the putting green, in your garage or around the backyard fire pit, the After Shock bag has you covered. At Hot-Z we are committed to innovative, quality products – what else would you expect from a brand that was started 150 years ago and is still going strong today!
Features:
9.5" Top Cart Bag
14 Way Graphite Friendly Separators Cart Bag
Putter Pit
High Tech Features and Graphics
Dual Lift Handles and Bottom Lift Handle Cart
12 Zippered Pockets on the Cart Bag
Velour Valuables Pocket With Waterproof Zipper
Custom Top Speaker Pocket with High Intensity, Power Bank Wireless Speaker
Sleeve for Any Size Cell Phone and Waterproof Pocket
Insulated COOLER Pocket With Water Proof Zippers and Drain Holes
GPS/Rangefinder Interior Pocket Sleeve
Pen, Divot tool and Scorecard Sleeves, Towel Ring with Velcro Glove Attachment, Key Hook and Rain Hood Pocket
Light Weight Dobby Nylon
Speaker Specs
Battery voltage: 3.7V
Battery life: 15 Hours
Loudspeaker size: 40mm X 2,403W
Unit Weight: 260g
Product size: 160*60*36mm
Go to Rock Bottom Golf for more information of the Hot-Z Golf AfterShock Speaker Cart Bag!
So don't delay Rock Heads, go Put Your Name In The Hat for a chance to win a FREE Hot-Z Golf AfterShock Speaker Cart Bag From Rock Bottom Golf!
Not on Facebook? That's ok! Go Here To Enter To Win!