Fabian Gomez Earns First PGA Tour Win
Sniff's Weekly Roundup
I've collected the top news and trending topics in the golf world so you can catch up on what you need to know! I've included some of the top stories as well as some of the most interesting stories and links from all around the internet! Enjoy! -Sniff
Here's What's Happened: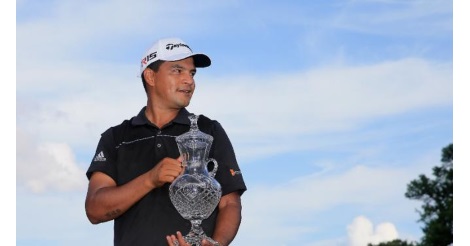 1. Fabian Gomez earns first PGA Tour victory at age 36. The Argentinian shot a five birdie-one bogey round finishing the FedEx St. Jude Classic at 4-under 66. The tournament featured three top 25 ranked golfers in the world. Phil Mickelson finished the tournament tied for third, continuing his winless drought, however he did say he was feeling much better about heading into the US Open after this week.
2. Inbee Park is on a roll, winning third Women's PGA Championship in a row. She earned the victory at the KPMG Women's PGA Championship on Sunday after making no bogeys for three days — that's 56 consecutive holes without a bogey. She shot a final round 68, finishing at 19-under par. The win puts Park back in the No. 1 spot in world rankings.
Inbee Park gets #3Peat @KPMGWomensPGA http://t.co/4qrHM49cs1

— LPGA (@LPGA) June 15, 2015
3. Andrey Pavlov comes close to breaking the worst kind of record on the European Tour. This past Friday, Pavlov shot an almost-comical 17 on the par-5 first hole at the Lyoness Open. His ball landed in the water six times. This is the second-worst number of strokes ever recorded on the European Tour — the absolute worse coming in 1978 when Philippe Porquier shot a 20 on a single hole. Pavlov ended his round scoring a 90 — 18 over par. Chris Wood ended up winning the tournament with a score of 15-under.
We don't like to laugh at others, but we thought it was worth sharing this. #AndreyPavlov #EuropeanTour #LyonessOpen pic.twitter.com/Q9a4nqAl4D — Golfing World (@Golfingworldtv) June 12, 2015
4. Jack Nicklaus shuts down complaints about location of this year's US Open. With so many changes to this year's tournament, it comes as no surprise that there have been some groans about the upcoming tournament. Chambers Bay, a golf course less than 10 years old, is the first course in the Pacific Northwest to host the US Open. The course lacks the typical tree-line fairways of other US Opens, since Chambers Bay only has one single tree on the entire course. It is also the first year that FOX Sports will be calling the tournament. What does Nicklaus have to say about the complaining? "It really makes little difference…You are going to play the tournament if you want to win the golf tournament."
Links I Love: