2015's Best Golf Gadget Gifts!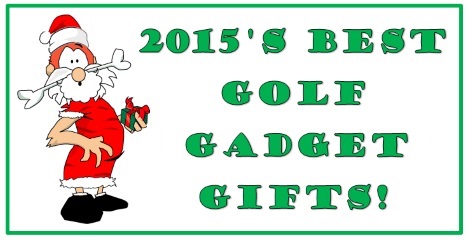 Looking for the perfect GPS to give this year or filling out your own list for Santa? There's lots of golf tech out there to choose from. How do you know what's the best? Well, don't worry Rock Heads! Scratch is here to help you whittle down the options! I've got here the best of the best GPS, Rangefinders, and Electronics in 2015!
Best Traditional GPS – Izzo Swami 3000 GPS Unit
The SWAMI 3000 is a Golf GPS unit with over 19,000 courses preloaded and ready to play. There is no Annual Fee and no Subscription cost. Just charge the SWAMI 3000 and go play golf. It's that simple. SWAMI automatically knows where you are and what course you're playing. In Fact, golfers using GPS systems play faster and their scores are lower.
Best Talking GPS – Voice Caddie VC300 Golf GPS
Voice Caddie is designed for users who desire quality, comfort, and superior design. Its clip-on, hands-free design makes it more comfortable than a watch or handheld device, and its simple touch technology makes voice guidance a breeze. The VC300 features a convenient ultralight, hands-free voice guided design that allows you to hear the distance to the front, center and back of the green with one swipe!
Best GPS Watch – Bushnell Neo XS GPS Watch
The Neo XS Watch is pre-loaded with 33,000+ courses in more than 30 countries (no membership or download fees). Auto course recognition allows users to easily find their course, and auto hole advance means golfers never have to touch the watch after starting a round. The Neo XS is equipped with an odometer, as well as standard watch features such as a stopwatch, alarm, and timer. Best of all, it comes ready to play out of the box!
Best Rangefinder – Bushnell Medalist Laser Rangefinder
With its sleek horizontal profile the Medalist is about two things: Lower scores and PinSeeker technology. Quick and natural to the eye, the Medalist acquires flags tucked in the deepest corners of the green despite background clutter that befuddles lesser rangefinders. Compact in size but loaded with powerful rangefinding features, the Bushnell Medalist sets a new standard in a complete rangefinder package. Like its predecessor–the PinSeeker 1500–the Medalist is equipped with PinSeeker technology to combine pinpoint accuracy and consistency enabling you to range up to 250 yards (±1 yard) to the flag without the use of reflectors.
Best Sports Watch – Soleus Go! Activity Tracker
Fitness is everything you do. Measure all of it. The Soleus GO! Keeps track of it all. It counts your steps, features a dedicated exercise mode, and keeps track of how well you sleep. It'll even offer up Caller ID and text message notifications from your smartphone via Bluetooth 4.0. Measure it all with the GO!
Best Swing Gadget – Medicus Power Meter
Wondering if you need a golf swing speed meter? Before you can increase your club head speed, you need to know your golf club swing speed and the Medicus Golf Power Meter tells you both instantly and accurately! Hit longer and straighter shots by increasing the power of your speed. Get instant feedback to improve consistency and control. With the Medicus Golf Power Meter, you'll discover that trying to swing harder can actually cause you to swing slower. You'll learn how to use your body to increase club head speed and club swing speed. A golf swing speed meter such as the Medicus PowerMeter allows you to have a Controlled Power Swing so that you consistently hit the ball farther and straighter!
Unlike other golf swing speed meters the Medicus Power Meter is easily interchangeable between golf clubs. The Medicus Power Meter can work on woods and irons and is specifically designed to tightly fit on any shaft size. With programmable swing performance settings you can dial-in your actual golfer and club specifications. Achieve the ultimate swing and start using the Medicus PowerMeter today!
Best Training Gadget – Game Golf Digital Tracking System
Now you can track every swing out on the course with the Game Golf Digital Tracking System. Improve Your Game! From tee to green, the Game Golf Digital Tracking System analyzes your entire round of golf! It displays exactly how far you really hit each club so you'll never under-club again. You can there share and compare all you stats with your friends, followers, or even the Pros!