Top 10 Shots From The 2015 PGA Tour!
Sniff's Weekly Roundup
I've collected the top news and trending topics in the golf world so you can catch up on what you need to know! I've included some of the top stories as well as some of the most interesting stories and links from all around the internet! Enjoy! -Sniff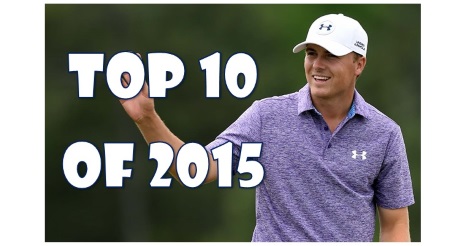 Here's What's Happened:
Well it's the end of yet another memorable PGA Tour season, with another one starting just around the corner. We've laughed, we've cried, and we've seen history in the making. This week I'm taking a look back at some of my all time favorite shots from this past year. Some of them you'd be crazy to forget, and some of them are just crazy. Did I miss any of your favorites from 2015?
1. Brian Gaffney at PGA Championship. Back in August at Whistling Straits, Gaffney nearly holed out his second shot drive from 154 yards out when the ball bounced right off the flag and stopped just shy of the hole.
2. Matt Jones at PGA Championship. Also at Whistling Straits, Jones's turns his mishap of hitting his ball into a tent full of people into one incredible make-up shot.
This is the trajectory of his shot:
One way to play 9 pic.twitter.com/JrQYLBV70t

— Eric Buenning (@ericbuenning) August 15, 2015
3. Branden Grace at PGA Championship. Whistling Straits brought out the best in everyone as Grace takes a near-impossible bunker shot and turns it into gold.
Branden Grace bunker hole-out on final hole for a share of the lead. That'll work. #SapphireOnLocation #PGAChamp http://t.co/c1D19q9Erc

— PGA.COM (@PGAcom) August 15, 2015
4. Jason Day wins PGA Championship. After a record-breaking day, Day makes a short putt to earn the victory at Whistling Straits. By far one of the most memorable moments of the year.
5. Jordan Spieth wins The Masters. Perhaps the most memorable walk to the final hole, Spieth led the entire tournament at Augusta — a win that sparked an incredible year for him. Walk begins at 3:38.
6. Tiger Woods looks like himself again at The British Open. Just his second birdie of the tournament, Woods' injury looked like old news for several shots over the weekend.
Hey! Tiger hit a golf shot! pic.twitter.com/UpHmx5dfoU

— Luke Kerr-Dineen (@LukeKerrDineen) July 17, 2015
7. Kiradech Aphibarnrat surprises himself with a shot of the flag. In the first round of the PGA Championship, Aphibarnrat's third shot from 65 yards out crashes into the hole.
8. J.B. Holmes makes eagle at US Open. After a long drive sent his ball into the bunker, Holmes more than made up for it with a perfect shot for eagle.
Add @JBHolmesGolf to the highlight reel with this eagle on No. 16. #USOpen http://t.co/Kk9MaMFq9b

— U.S. Open (USGA) (@usopengolf) June 21, 2015
9. Brian Harman's lucky day at The Barclays. Harman aces not one but TWO shots in one round at The Barclays.
10. Shane Lowry at WGC-Bridgestone Invitational. The Irish golfer got lucky when his ball off a tree without getting too thrown off. After the round, and ultimately the tournament win, he went back to show the tree some love — a big ol' hug.
Shane Lowry. Exclamation point. #QuickHits http://t.co/0LeLPVrwIs

— PGA TOUR (@PGATOUR) August 9, 2015