Ryder Cup: Tiger Versus Rory Versus Rickie?
This caveman has been hearing a lot of speculation about the Ryder cup lately. Which is fine. I mean, it does start tomorrow. The latest gossip around the water cooler has been about whether or not Tiger Woods is going to dominate play.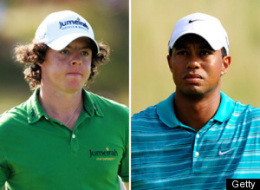 Tiger has been a fierce contender for over a decade. His first Major was the '97 Masters, where he beat none other than Team Europe's Captain, Colin Montgomerie. Since then he has claimed victory to 13 other Majors. But this year has been different. Tiger Woods has not won a single event this year, and didn't make the cut for the Tour Championship.
So where is all of this talk of domination coming from? Supposedly Rory McIlroy's Statement about how any member of the European team would fancy their chances going head-to-head with him, has lit the fuse for the would be Tiger Bomb. While I get that this may seem like a motivational spark. I see it as a crippling realization that Tiger definitely has not been playing well. His response was very lackluster in acknowledgment. "Me too," being his only retort.
I see this going one of two ways, either Tiger will play his heart out, and potentially dominate. Or the pressure will get to him and we will see more clubs thrown than we have ever seen from him, and given his track record, that's certainly saying something.
The next spot of business that I have heard a lot of recently has been the match-up of McIlroy and Rickie Fowler. The smack talk of which has supposedly shaken Celtic Manor. But while these golfers are the same age. They are, in this caveman's opinion, worlds (not even just an ocean) apart.

McIlroy went pro in 2007 and has spent the last 2 seasons making a name for himself in Europe, and making his way into the top 10 (#9) World Ranked golfers. He also earned his spot on the team.
Rickie Fowler may have been the first US rookie to ever make the Ryder Cup team, but was he really chosen for his talent or for the publicity? I am not saying that Rickie won't have what it takes in the future, or that he is a bad golfer now, especially after he spent 36 weeks as the top US Amateur. But I am sorry Rickie, I just don't know if you have what it takes this year. I am willing to eat crow if you prove me wrong.
What do you think Rock Heads? Will Rory be able to take on both Tiger and Fowler?
~Scratch