Who's In At The Open Championship?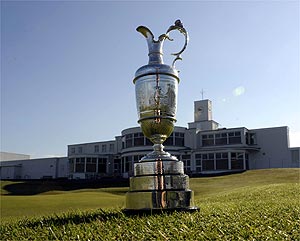 The 2010 Open Championship kicks off next weekend at St Andrews Golf Course in Scotland. Tiger Woods will continue to pick up his golf game and hold onto his #1 spot, while Phil Mickelson attempts to dethrone him.
Justin Rose, who made his first splash during the 1998 British Open when he tied for 4th as an amateur, earned his spot last week when he moved up 16th in the world ranking list with his win at the AT&T National.
Bubba Watson snagged his invitation when he triumphed at the Travelers Championship. Jeff Overton will be playing in his 3rd consecutive British Open, and it will also mark the second appearance of Ryan Moore.
Rickie Fowler will also join with his Open Championship debut next weekend.
Unfortunately injuries have forced a couple of players to take a knee on the sideline. The 11th world ranked, Anthony Kim, will be nursing his injured thumb, while David Toms ices his shoulder.
For a list of the other competing golfers, check out the Open Championship's website.

Who do you think will take it this year, Rock Heads?

~Scratch
PS: Don't forget to choose your teams in my Fantasy Golf Group. The Person who picks 'em best for the British Open, will get some Caveman Cash!